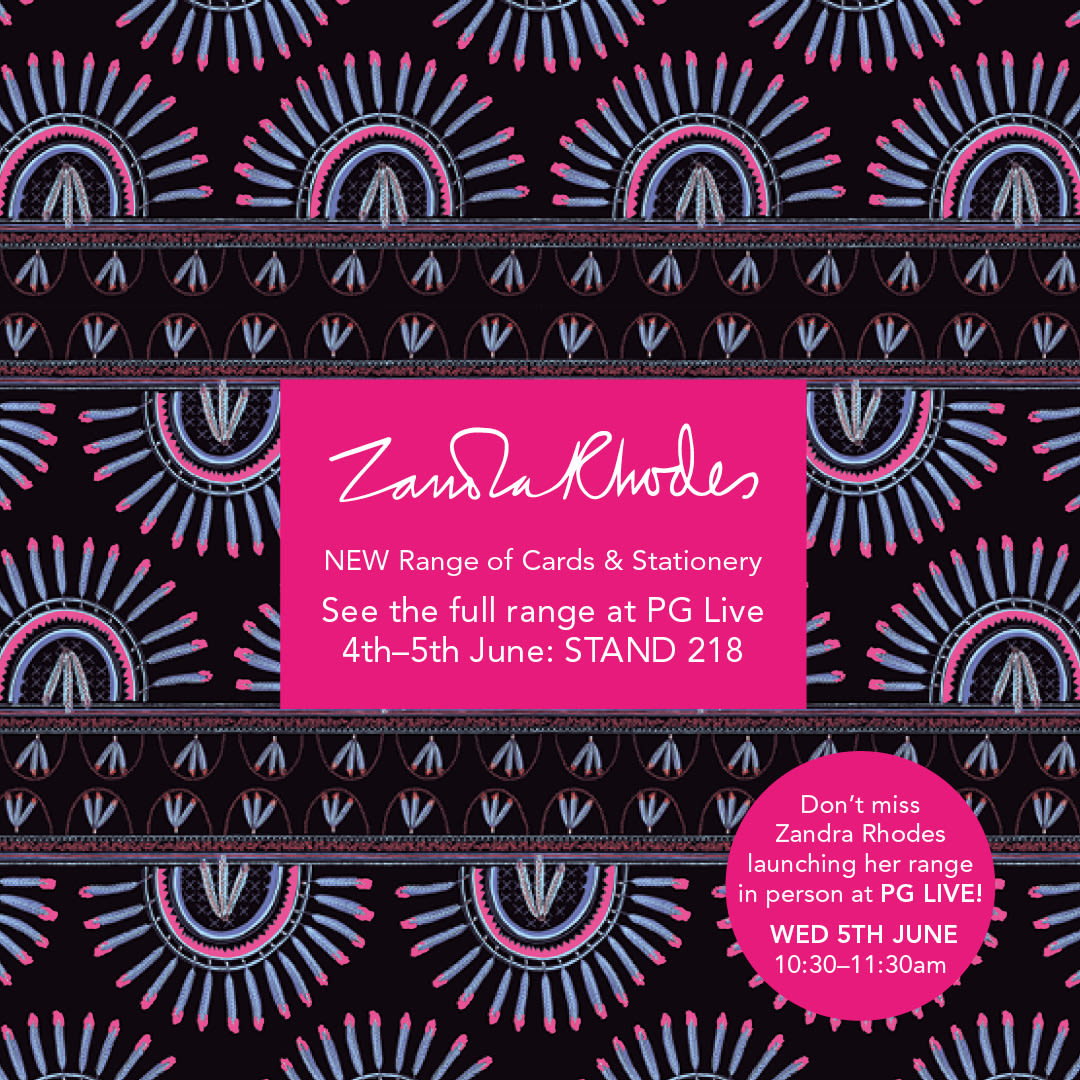 21/05/2019
Museums & Galleries is proud to announce the exclusive launch of Zandra Rhodes branded greetings cards and gift stationery at PG Live.
The new Zandra Rhodes signature cards and gift stationery range by Museums & Galleries Ltd celebrates a fifty year career of bold patterns, rich colour and irrepressible style. This inspiring collection launches exclusively at PG LIVE 4th-5thth June – stand 218.
Zandra Rhodes says: "I am absolutely thrilled seeing my classic beloved designs being made into gorgeous cards and notebooks to bring joy into people's everyday lives. Pattern is such a wonderful medium and the prints that have been cherry picked for this special collaboration are some of my favourite designs – some going right back to the 60's! My Neon Man, Lipsticks, Feathers, Cactus, Chevron Shawl and Starwarz prints adorn stationery, gift wrap and luxe notebooks!"
Ben Dorney, Creative Director of Museums & Galleries Ltd, says: "Celebrating Dame Zandra Rhodes' fifty years in fashion with an exclusive range of cards and stationery is an honour and a delight for M&G. It's the first time her work has been licensed on paper products and her vivid and unique prints completely lend themselves to it. Zandra and her team have committed to the project beyond our expectations and we are absolutely thrilled with the results.
The new Zandra Rhodes collection expands the exciting fashion-led side of our portfolio and brings Zandra Rhodes' trademark style and colour (expect some pink!) to our range. Above and beyond that, though, it's a chance for us all to experience in a new way the creative vision of one of Britain's greatest designers. 'Legend', 'icon' and 'national treasure' are possibly overused phrases nowadays, but all genuinely apply to Zandra Rhodes."
Zandra Rhodes is one of the world's most recognizable, distinguished and exciting fashion designers. The original 'Princess of Punk' and a designer to the stars and royalty, Dame Zandra Rhodes is also the founder of the Fashion and Textile Museum and an inspirational educator.