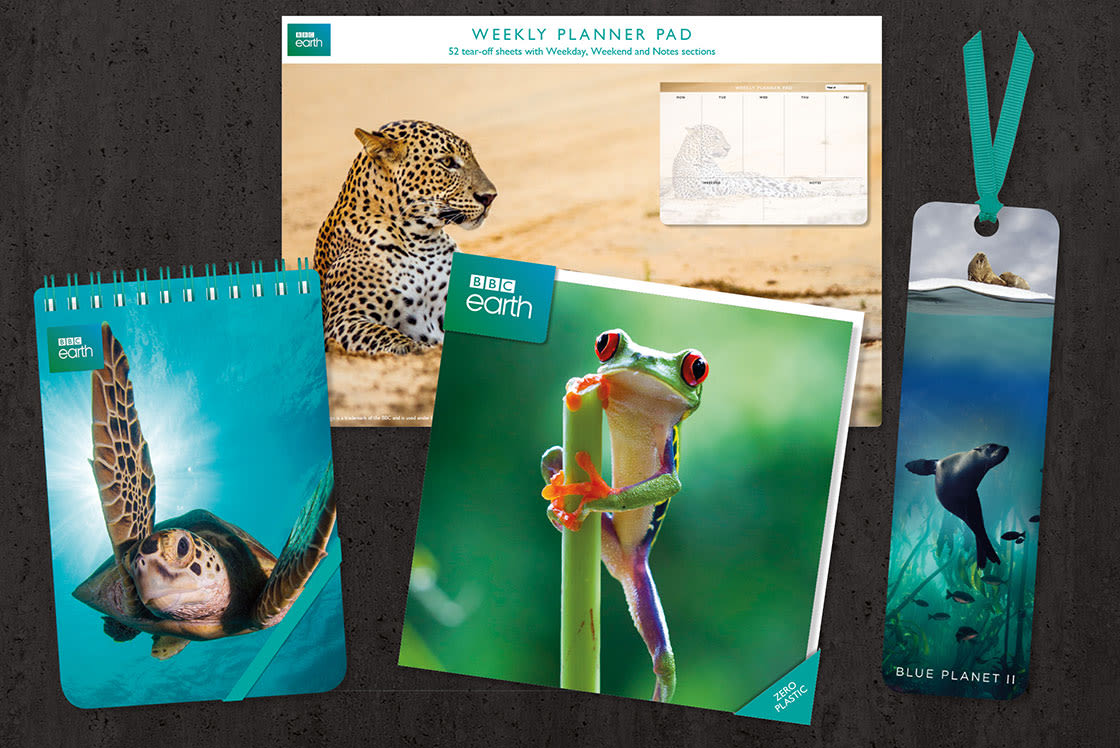 05/06/2018
The new BBC Earth Greeting Cards and Gift Stationery range by Museums & Galleries Ltd features iconic imagery from the landmark natural history series' Blue Planet II, Planet Earth II, and beyond. Mirroring the ecological ethos of the brand, the cards and envelopes are FSC certified and recyclable, and M&G has developed innovative eco packaging. This inspiring collection launches exclusively at PG LIVE 6-7th June – stand 218.
Anna McArdle, Licensing Executive Consumer Products at BBC Studios, says: We are delighted to be working with Museums & Galleries on new BBC Earth greeting cards and the brand's first gift stationery range. Given the environmental messaging in Blue Planet II, finding partners with the same values is key to our licensing strategy for BBC Earth. Museums & Galleries have not only delivered an outstanding and environmentally conscious range, but they have done so with passion and sensitivity to our brand.
Ben Dorney, Creative Director of Museums & Galleries Ltd, says: It's a privilege to collaborate with BBC Studios on such an iconic and important brand as BBC Earth. As you would expect, the range delivers unforgettable images from the animal world, which will resonate with fans of Blue Planet II and Planet Earth II. The ground breaking spirit of these series has made them a global phenomenon with a vital message, which encouraged us to be innovative with the packaging and production of the range from an environmental perspective too. BBC Studios have been very supportive and fantastic to work with, and we're thrilled with the launch collection. It features an unparalleled British brand with a uniquely relevant story at its heart — that's what we're all about.
BBC Earth is a global portfolio brand that invites audiences everywhere to engage with the wonders of our universe, bringing amazing premium content, television and experiences to the world across multiple platforms.
From the epic to the everyday, BBC Earth brings you face to face with heart-pounding action, mind-blowing ideas and the sheer wonder of being part of this amazing planet we call home.